Chappy Wood, DC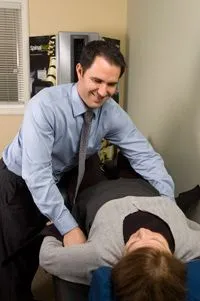 Patients come from all over the Bay Area to see Chappy Wood, D.C. at Marin Spine & Wellness Center in Corte Madera. A life-long resident of Marin County, Chappy is a trusted health advisor to the community, as well as an incredibly skilled and well-educated chiropractor. Getting results for you is his number one priority. He assists those suffering from chronic and severe pain, sports injuries, poor health habits, and more using hands on techniques, modern technology, exercise, and nutrition to get back to a stress-free and abundant lifestyle. As a seasoned health and fitness professional, Chappy is fueled by his active lifestyle including MTB Racing, running, golf and functional movement exercises. He has had his own injuries caused by his active lifestyle pursuits so he understands how to quickly get you back out enjoying cycling, running and hiking the beautiful Marin trails.
A graduate of Life West Chiropractic College, Chappy specializes in Advanced Chiropractic Techniques, Spinal Decompression Therapy, Active Release Techniques (A.R.T.), Graston, Applied Neurology, Class IV Laser, Cold Laser, PEMF, Sports Rehabilitation, Mobility and Movement Assessments, Kinesio Taping, Self Care and much more.
Each visit at Marin Spine & Wellness Center is a co-creation of your body's current needs and Chappy's ample skill and variety of techniques. No health issue is too complex or to minor to captivate his full attention and dedication to finding a complete resolution that works for you. At Marin Spine and Wellness Center, we are your partner in health, working closely with you by creating individualized treatment plans that fits you and your goals. We want to empower you to recover and maintain a healthy lifestyle.
Marin Spine & Wellness Center is one stop shopping for leading-edge natural healthcare. As one of Marin's leading health centers, we continue to investigate and advance new techniques and technologies designed to give you the best results-driven and reliable place to like and trust.