Sport injury, auto accident or chronic pain condition?
Marin Spine and Wellness Center is experienced at helping you get out of pain by utilizing expert rehabilitation methodologies and breakthrough technologies to assist you on your journey from pain to optimized health.
We specialize in helping people suffering from a herniated disc, back pain and other types of pain. We have a comprehensive spinal disc rehabilitation program that promotes the healing of disc herniations and painful disc conditions.
Our Spinal Disc Rehabilitation Program Includes
SPINAL DECOMPRESSION THERAPY
ACTIVE RELEASE TECHNIQUE (ART)
MED-X CORE STRENGTH SYSTEM TRAINING
MANUAL THERAPY
LASER THERAPY
E-STIM
ULTRASOUND
KINESIO TAPING
POSTURE CORRECTION PROGRAM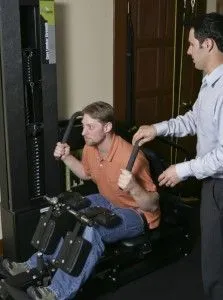 Dealing with an auto accident or serious injury can be frustrating. Our approach goes for beyond conventional therapies for pain relief. We coach you every step of the way with:
Pain relief treatments
Stabilization exercises
Ergonomics training
Movement techniques
Lifestyle modification
Nutritional Support
Healing takes time. We will monitor your progress to make sure you get well and avoid chronic and debilitating pain conditions.
Are you ready to relieve your pain and to begin the process of optimizing your health? Contact us today to schedule your initial consultation.